During the past summer months, the NEMO project presentation movie was prepared and recorded. Several researchers from various partner institutions gave short interviews to explain the NEMO concept. Other partners contributed with additional footage from their activities and installations. The challenges and opportunities of the NEMO project were described, and the workflow of the project analysed. Finally, the potential advantages of a project like NEMO were highlighted. The movie is expected in October 2020.
The NEMO project video is intended as a teaser for a broad non-expert audience to learn more about the NEMO project and the innovative approach it aims to develop and implement. NEMO aims to develop, demonstrate and exploit new ways to valorise sulphidic mining waste; it stands for the 'Near-zero-waste recycling of low-grade sulphidic mining waste for critical-metal, mineral and construction raw-material production in a circular economy'.
With an estimated volume of 600 Mtonne/yr and a historic stockpile of 28,000 Mtonne, sulphidic mining waste from the production of Cu, Pb, Zn and Ni, represents the largest volume of extractive waste in Europe. These 'tailings' still contain valuable & critical metals. NEMO develops, demonstrates and exploits new ways to valorise sulphidic mining waste. The consortium members jointly design and test near-zero-waste flowsheets, encompassing the recovery of valuable & critical metals, the safe concentration of hazardous elements, the removal of sulphur as sulphate salts, while using the residual mineral fraction in cement, concrete and construction products.
NEMO's near-zero-waste technology will provide the EU with both direct and long-term, indirect advantages. The former range from new resources (e.g. base metals: Cu, Zn, Ni, Au; critical metals: Co, Sc, Nd, Y, Sb; SCM and aggregates etc.), CO2 savings from metal recovery and the replacement of Ordinary Portland Cement, new job creation, new revenues from the multiplication of the former benefits, while eradicating acid-mine drainage and other environmental issues.
The interviews with the various NEMO researchers were conducted in June 2020; additional archive footage of a.o. Boliden and BRGM complemented the video. The NEMO video was produced by Storyrunner production house.
Find out more about the NEMO project on h2020-nemo.eu/project-2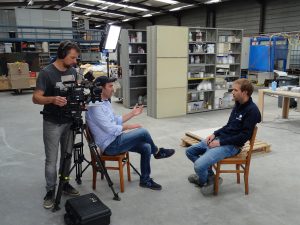 Acknowledgements
The NEMO project has received funding from the European Union's EU Framework Programme for Research and Innovation Horizon 2020 under Grant Agreement No 776846 – https://h2020-nemo.eu/
(c) All photos in this article: Piet Wostyn